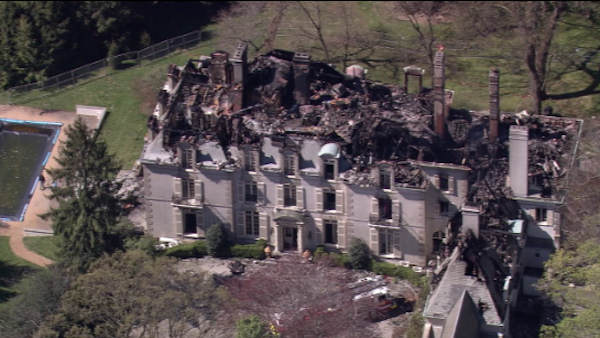 The fact that
historic Bloomfield burned
last week
in Villanova
was almost prophetic or symbolic of how the Main Line is just dying. One old house at a time. ( And who besides me thinks that Bloomfield fire seemed odd?)
I hope the thundering herd of nouveau riche who have taken over the Main Line are happy. What made the old glorious gal known as the Main Line fabulous exists no more.
Take a good long look around you: stately homes are now tacky McMansions on postage stamp sized lots (because god forbid we actually do any gardening), even Lily is silly. Condos, they keep building condos. Who the hell will ever live in all these condos and apartments?
Yes there are puddles and puddles of money for the select set (let the rest of them eat cake, y'all, and some have less than that given all the tales of Main Line food banks out there), and stores and restaurants oh my!
But
look
around. It's not the same. Sometimes change is good, in this case, change is bad. So many have moved to the Main Line over the past 20 years just to say they lived here.
Today the old school Main Liners hang on in quiet little enclaves tucked out of the public eye. They hope that all their clubs won't be overrun by Real Housewives of the Main Line and they look on in horror at the surgically enhanced, botoxed herd of what calls themselves Main Line. Debutantes they ain't.
Look at even the streets of our towns - Wayne and Bryn Mawr come to mind immediately because sometimes they are just urban dirty these days. People toss trash everywhere and when I went to visit a shop in Bryn Mawr recently I noticed the street smelled.
Smelled
. As in along Lancaster Avenue near the Bryn Mawr Movie Theater. Now Ardmore and Bala Cynwyd have smelled for years. But Bryn Mawr? Wayne?
A lot of my contemporaries are getting off the Main Line. They are seeking alternate communities for the way of life that they once loved and what drew their families to the Main Line in the first place. Goodness I remember when it was chic to drive a car that wasn't the LARGEST and MOST EXPENSIVE around.
Soon what we know as the Main Line will look like nothing special whatsoever. It will be just another homogeneous, unimaginative clump of suburbs, full of plastic houses and plastic people. And yet all these local governments think it's all just grand.
Get real. Botox Barbie and Ken have ruined what we call home. Don't believe the hype. What was the Main Line in essence no longer exists. The Main Line is so overbuilt it no longer even looks suburban. It looks urban. And again, many of these "down towns" smell urban too. And that is not a compliment.
And a note to all those women who think they are Grace Kelly? You're not.