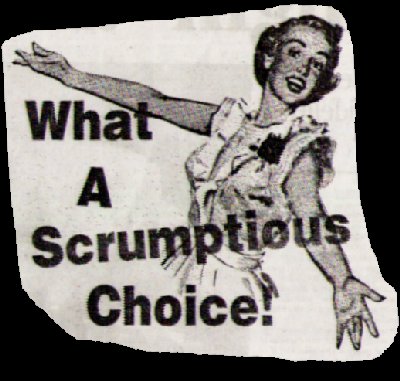 I can't stand it...I must snark about it! So we have a plethora of Patches - they keep springing up like mold or ants at a picnic. Truthfully, a lot of them are worthless, but I do like
Radnor Patch
.
However, there is one thing on
all
the Patches I would like to either nuke or "86" like a bad piece of chicken or last week's tuna salad.
Who edits this chick Clara Park who scribbles the mindless inanity known as the "Moms Eat Local" columns?
Recently there has been the following:
Moms Eat Local: The Silverspoon
Moms Eat Local: A Taste of Britain with Easy Elegance
Moms Eat Local: White Dog Cafe in Wayne
Moms Restaurant Roundup: Great Harvest Bread Co. to Samurai
Now Clara (who must have escaped from the Nutcracker given the lack of writing skills) also does this for many other Patches. Seriously? How can they publish or post these things?
They mostly start out with this silly bubble of:
Moms know how tough it can be to eat out with little ones. Patch wants to help you know before you walk in the door if [INSERT RESTAURANT NAME HERE] is a good place to eat with your children.
Oh O.K.... hmmm what about the truth of it on the Main Line? It's not
necessarily
that the restaurant isn't a good place for children, it's conversely that a lot of these children and their parents are not good for restaurants because....they have no manners, they are bratty, they spend so much time with the help that when the actual parents occasionally trot them out they are well...willful (and that is putting it mildly).
As one friend recently said, some children are simply little savages. And face it, a lot of kids today simply do not know how to behave out in public.
That being said, back to how dumb as in dumb ass dumb these columns are. Regardless of the me and mini me at lunch factor, let's talk about these reviews - it is like a bobble head wrote them.
I also wonder if she is paying for all these meals and being reimbursed by Patch, or are the restaurants comping her? Because if she is being comped, these are just poorly written ads.
But as for Patch in general? Save the saving grace of Sam Strike doing the one if Radnor, for the most part they are a snooze and there are waaaaayyy too many of them.
Anyway, here's hoping Moms Eats Locals goes away...it's dumb and the woman loves everything even if we all know some places just suck in general.
Kids will try all sorts of foods and bascially, if your kid gets used to going out to eat with you, most places are kid friendly because the kids just become used to the idea that this is a cool treat. And most restaurants worth their salt if they don't have a starch-o-riffic-gut-buster kids menu will adapt things to kids off menu and it's not super expensive to do that either.
But these Baby-R-Us columns? OMG puleazzze, make them stop....face it - your kids deserve better then happy meals, so can we stop with the happy meal reviews?