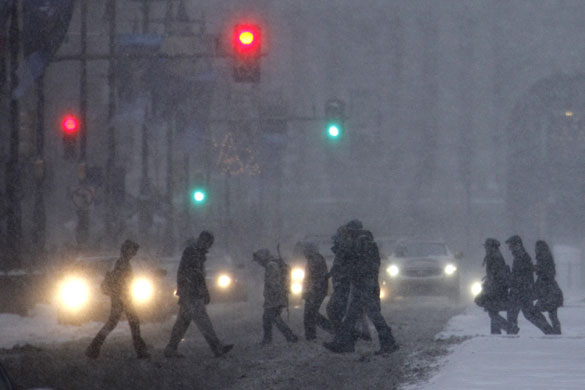 Seriously, Nutter has balls. Philadelphia is the biggest mess of all after the snow and he has some political consultant saying he hit a "home run"? Gimme a break. I think that snow storms in previous years were handled better in the Philadelphia region...and of course ask anyone NOT from the Philadelphia region and they will tell you other regions, cities, and states can handle snow....just not South Eastern PA.
I found the perfect photo to go with Nutter's atta boys....it snowed, Nutter goes on TV and hangs with reporters a while...but here it is Monday and Philadelphia is still a mess...suburbia is a mess....whatever....once again this region fails winter. This region ALWAYS fails winter.
I wish I could find the photos I saw of streets down in Philly over the weekend...I daresay they aren't volunteering for Nutter's re-election campaign...
Posted on Sun, Feb. 14, 2010
Nutter gets high marks for storm cleanup
By Patrick Kerkstra
Inquirer Staff Writer
There is nothing like a snowstorm - or better yet a relentless series of storms - to put a mayor under the microscope.

With the evidence at their feet, voters have few better opportunities to judge just how effective their city government is.

The unruly winter is far from over, but so far Mayor Nutter has weathered the storms remarkably well. Though their views on the city's performance are mixed, Philadelphians generally acknowledge that Nutter and city employees have worked hard under trying conditions.

And political observers are giving Nutter rave reviews, praising his leadership and the cleanup.

Last week, Nutter seemed to be everywhere at once, digging out church sidewalks, rallying public employees, and making appearance after appearance on television.

All the while, he maintained an upbeat and informal demeanor more akin to the 2007 mayoral candidate than the sober, budget-minded mayor of recent years.

"He showed empathy for the residents of the city. He used the media very, very effectively. He heaped praise on city workers. He hit a home run," political consultant Larry Ceisler said.

Ceisler likened the storm to a "politically cleansing experience" that gave Nutter the chance to "reintroduce himself to the voters of the city and to basically start from scratch."